History of the Black Soap Company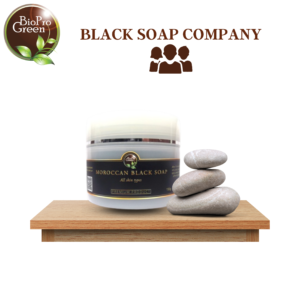 Black soap is a natural and traditional product originating from West Africa. It has a long history dating back centuries and has been used for various purposes, ranging from body washing to laundry and household cleaning.
Today, there are numerous black soap companies around the world, producing a variety of black soaps to meet your individual needs and preferences. Modern black soaps are often made with high-quality natural ingredients such as olive oil, argan oil, and avocado oil, to provide additional benefits to the skin.
As a black soap company, we have adopted more sustainable business practices to protect the environment and the communities that provide the necessary ingredients for black soap production. Our company works with local farmers to source raw materials, support sustainable farming practices, and provide jobs for the local population.
Black soap is a highly prized natural product for its cleansing, exfoliating, and moisturizing properties. However, it can sometimes seem difficult to know how to apply it correctly to get the most out of it. Here are some tips to help you effectively use black soap:
1. Prepare Your Skin
Before using black soap, it's important to prepare your skin. Wash your face or body with warm water to open up the pores. You can also exfoliate your skin using a loofah to remove dead skin cells.
2. Dilute the Black Soap
Black soap can be quite concentrated, so it's often recommended to dilute it with water before use. Mix a small amount of black soap with water in your hands until you get a light lather.
3. Apply to Your Skin
Apply the black soap lather to your skin, using gentle circular motions. Make sure to cover all the areas you want to treat, avoiding the eye and lip areas. Leave the black soap on your skin for about 5 to 10 minutes.
4. Rinse Thoroughly
Thoroughly rinse the black soap from your skin with warm water. Make sure to rinse completely to avoid any soap residue on your skin.
5. Moisturize Your Skin
Black soap can sometimes dry out your skin, so it's important to apply a moisturizing lotion after using it. This will help restore moisture to your skin and prevent any discomfort.
6. Use in Moderation
Black soap is a natural and gentle product for the skin, but it can be too abrasive if used excessively. We recommend using it once or twice a week to avoid drying out or irritating your skin.
By following these simple tips, you can effectively use black soap to safely clean, exfoliate, and moisturize your skin. The Black Soap Company can be used for many parts of the body, including the face, body, hands, and even hair, and is ideal for all skin types.
FAQs about Black Soap Company
1. How can I get samples?
We are pleased to offer samples. New customers need to pay courier fees, samples are free for you, and these fees will be deducted from the payment of the official order.
Regarding courier fees: You can arrange an RPI (remote pickup) service on FedEx, UPS, DHL, TNT, etc.
2. How does your factory behave in terms of quality control?
Quality is a priority! Every worker ensures quality control from start to finish.
All raw materials used are environmentally friendly.
Skilled workers take care of every detail by hand, whether it's stamping, printing, sewing, or packaging.
The quality control department is specifically responsible for quality control in each process.
3. Can your factory print or emboss my logo on the goods?
Yes, we can print your logo on the goods or their packaging box. For patent protection reasons, a lawyer's letter (authorization letter) must be provided for the logo.
We usually produce the goods based on customer samples or based on the image, logo, size, etc.
 N°200 Lot Al Massar, Z.I Sidi Ghanem,  Route de Safi, 40 000 Marrakech , MOROCCO
Tel:+212 524 335 449
MOB :+212 600 604 387 (Whatsapp / viber )
Fax:+212 524 457 961
Website : www.bioprogreen.com
E-mail : contact@group-oriental.com
Follow US:
http://facebook.com/grouporiental
http://twitter.com/grouporiental