Moroccan Argan oil private Labeling
Labeling and packaging of products are the most crucial part of marketing. Almost all the marketers use attractive labeling to fascinate their potential buyers all over the world. However, labeling helps an organization, company or a manufacturer to display the central idea of a product. It encourages the customers to purchase the product.
Labeling help in communicating with your customers. We at Oriental Group completely understand the importance of labeling and hence help the businesses to sell their products according to their terms and conditions.
We at Oriental Group provide labeling services for the products like Argan Oil , Prickly pear seed oil and for the skin and hair care argan oil products. Furthermore, we with our wholesale bulk argan oil offer our buyers with the labeling services. In our labeling service, we cover all the argan oil private labeling processes:
Bottles to label
Design custom order labels with logo
Printing the labels
Why choose Oriental Group Argan oil private labeling ?
High-quality Glass bottles:
We at Oriental Group with us have a great variety of glass bottles that you can choose for labeling your product. You can have your business logo or labeling on the argan oil product glass bottles according to your specifications.
Private bottle labeling:
Now the purchasers can get the printed label of their company or an organization. Moreover, they can get the custom printed label from our company. However, our designers are fully co-operative and talented to give you the best business logo for labeling, but the taxes will apply.
Casing labeling:
We also offer case labeling services to our valuable customers. You can select a case of any size according to the requirements. We offer customized design, casing with your label and even can design labels for you according to your instructions. However, the surcharges will apply.
We provide only 100% waterproof labels and stickers printing for the order minimum 100 labels and stickers at a time. Furthermore, our company provides you labeling in different languages whatever suits you.
Shipping method:
We offer a large variety of different packaging shipping service. However, all you need is to select the packaging option and we will arrange the safe and secure shipping method for you.
Why is private labeling best ?
Labeling is no doubt consider the best due to many reasons. Some of them are as follows:
It help the sellers to have full control over pricing of a product or service
The company can put forward their marketing ideas
The business can design high-quality personalized image which can turn your sells into potential customers.
Furthermore, allow you to add a punching taglines, additional materials, or details etc.
We offer a wide range of labeling options to our customers and give surety of quality and durability. Our team of designs can design the labels exactly to your specifications. So order now and get the best private labeling service.
Note: In conclusion we provide argan oil private labeling service as a minimum of 100 units from each package you desire. Moreover, charges will apply to all packages send under every 100 pieces.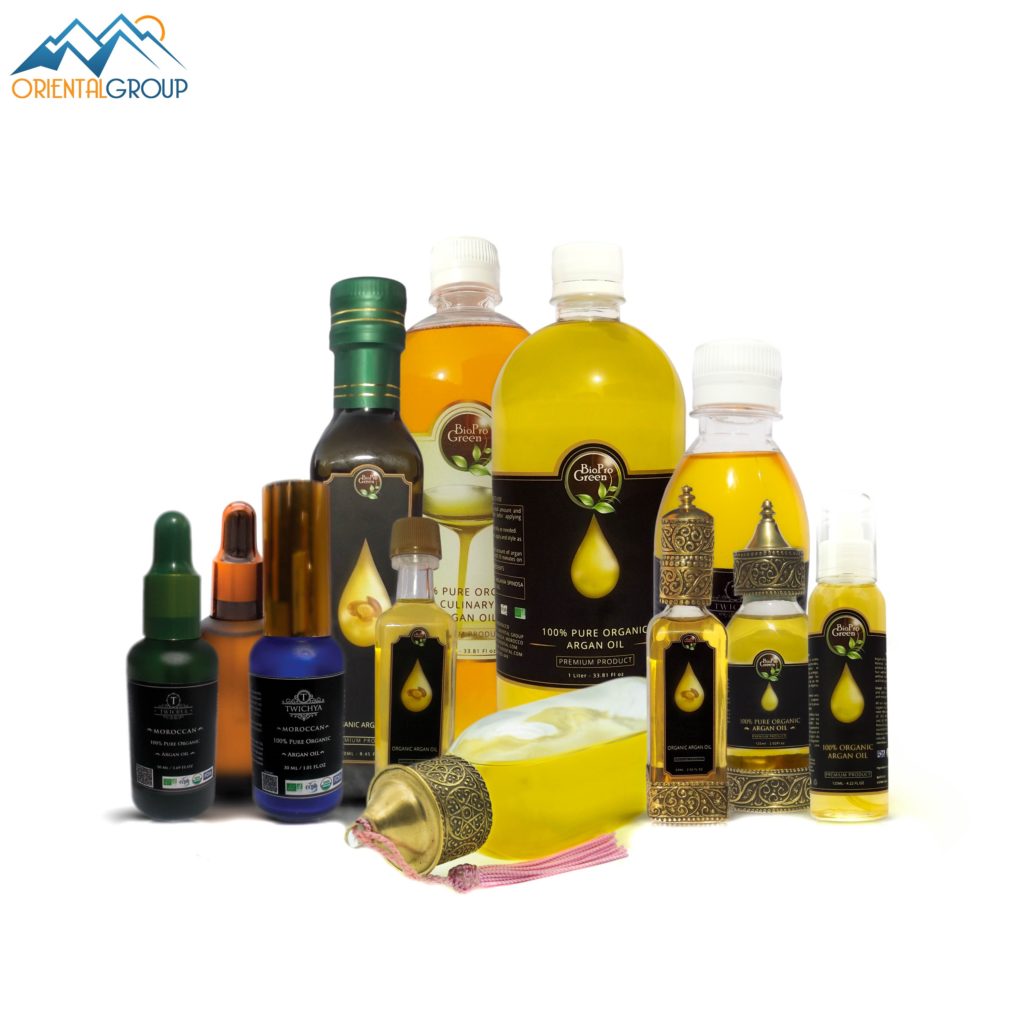 Supply Ability:   20000 Liter/Liters per Week
Port:      Casablanca /Tanger MED / Agadir
Payment Terms:  L/C,T/T,Western Union,MoneyGram,PAYPAL
Packaging & Delivery
Packaging Details : 40ml, 60ml, 100ml ,125ml, in PET plastic bottle with pump 250ml, 500 ml, 1Liter, 10 Liters, 20 liters, 25 liters ,33 Liters in drum with cap Argan Oil can be 40ml, 60ml, 100ml ,250ml, 500 ml in amber or trasparent glass bottle with cap.
Delivery Time: 15 days after confirmation of all detaills and deposit
Quick Details
Place of Origin: Morocco
Processing type: Cold pressed
Form: oil
Use: Body, Face and hair (hair salon use)
Supply Type: OBM (Original Brand Manufacturing)
Brand Name: BioProGreen or private labeling
Price: Ex-work
Certification: MSDS ,CCPB / NOP USDA Program
Cultivation type: Organic
Main Ingredient: Argania Spinosa kernel
FOB Price : Contact US
Product available in private labeling contact us for more informations : Oriental Group