Moroccan Ghassoul Clay – Moroccan Clay Powder – Ghassoul Wholesale Supplier
Moroccan Ghassoul is a natural clay that has been used for decades. It is high in minerals and works best as skincare and hair care treatments. Rhassoul clay is mined from deposits in the Atlas Mountains located in Morocco. It is reddish-brown and has a frizzy appearance. Our untreated dried Moroccan Ghassoul clay has a silky feeling, which can go a long way toward reducing skin tone and skin spots. It works best to nourish the skin and keep it healthy and soft.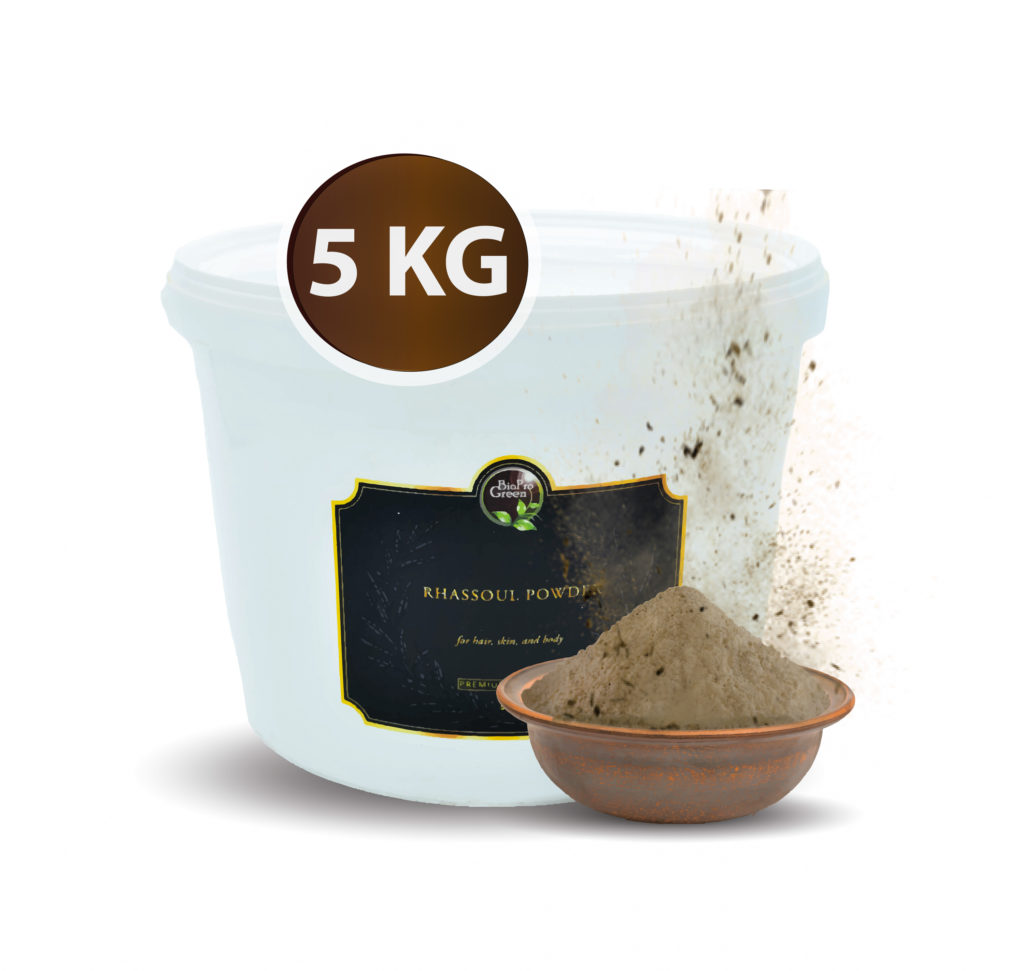 Key Benefits of Ghassoul clay
Removes dead skin cells and shrinks the pores
Sustains the skin
Ideal for delicate skin
Serves as a natural shampoo
Ecologically friendly soap
According to research conducted by a veritable source, Ghassoul clay could promote skin elasticity, reduce redness, even skin color, and remove blackheads and peeling or drying of the skin. It has higher magnesium and silica content, which is believed to be good for the skin. Other terms that can be used for our products include but are not limited to Rhassoul mud, green clay, green clay mask, clay for hair, Rhassoul clay mask, Moroccan clay powder, ghassoul private label, etc.
Ghassoul/Rhassoul Wholesale Supplier
Group Oriental offers various ghassoul/ghassoul products. We deal as a wholesale supplier of ghassoul clay. The products are 100% organic and natural and we ensure their quality and authenticity. The ghassoul products are mostly face/hair masks and personal beauty care products.
Benefits
Ghassoul clay has been used for skin care beauty for ages by Moroccan women. It originates from the mineral stones of the Atlas Mountains situated in Morocco. The minerals present in the clay have numerous health benefits such as rejuvenation of skin and removal of dryness from hair. Moreover, it is suitable for every type of skin and leaves no harmful side effects. The skin radiates and the hair shine after just one application.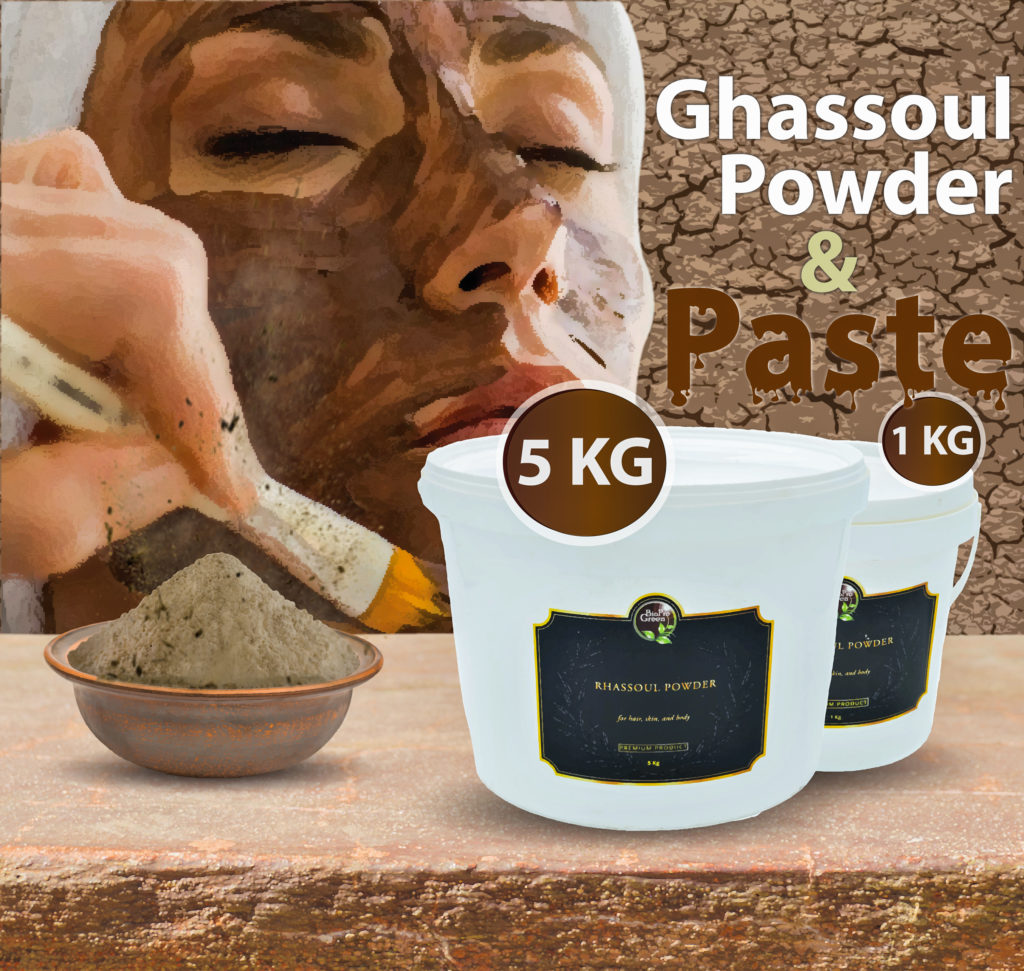 Where to Buy?
Group Oriental serves as a wholesale supplier of Moroccan ghassoul/ghassoul clay. We offer a variety of products with the facility of custom packaging and designs. Special discounts are available on orders of 200 and above products.
Ghassoul/Rhassoul Powder with Private Labelling
Group Oriental offers natural, pure, and organic ghassoul clay powder straight from the native country of Morocco. The clay powder is multi-purpose and is mostly used as the main ingredient of skin clay and mud masks. The unique feature which Group Oriental offers is the private and customized labeling of this powder product.
Benefits
The ghassoul powder clay is 100% natural which is suitable for every type of skin and hair. It freshens the skin and gives a very soothing effect. Free of any sort of chemicals and preservatives, the powder is genuine and fair traded.
Where to Buy?
Group Oriental is your go-to service for ordering natural and organic cosmetics. We have a variety of essential oils and clay products. The packages can be customized and privately labeled. We have every type of packaging ranging from plastic to aluminum. Worldwide export services are available with quantity-based discount prices.
Bulk Ghassoul/Rhassoul Wholesale
Description
Group Oriental offers 100% natural and organic products. We sell bulk ghassoul/ghassoul clay which is best used for beauty treatments. The pure Moroccan clay comes from the Atlas Mountains' lava and is highly recommended for skin care regimens.
Benefits
It is full of essential minerals which deep cleanse the skin, treat and rejuvenates it with increased blood circulation. Due to its high absorption capacity, it moisturizes the skin leaving a very smooth and fresh effect. The clay can be used for making facial and hair masks. Mixing it with a good quality shampoo helps to reduce the excessive sebum and frizz in the hair giving them a very shiny and smooth look.
Where to Buy?
Group Oriental sells the clay wholesale and we offer worldwide export and delivery services. The products can be custom designed and packaged with private labeling. Quantity discounts are available on all our products.
Ghassoul: The Moroccan Magic Powder
It is all about "masking" in the beauty industry nowadays. A variety of face and body masks are trending in the market. The last few decades have seen a major trend shift from cosmetic masks to natural organic products with increasing health awareness. The health and beauty industry is increasingly looking towards nature for beauty ingredients. One such product making heads turn is Ghassoul Clay. It is a gift to the health and beauty industry from Morocco. It comes from the lava clay of the Atlas Mountains. It goes by many names such as Rhassoul Clay, Moroccan Clay, and Red Clay.
Ghassoul powder is a natural body cleanser. Its biggest feature is that it cleans the body without stripping the skin of essential oils. The powder can be mixed with other beauty ingredients to create a large variety of skin products. Ghassoul is available in the market in form of Ghassoul paste. The paste can be directly used or can be mixed with other ingredients for incredible results.
Ghassoul paste with orange blossom works miracles for the skin as it combines the goodness of Ghassoul with the benefits of Vitamin C. It has anti-oxidants that rehydrate and invigorate the skin thus making it look supple and younger. Similarly, Ghassoul paste with rose is used worldwide for skin cleansing and degreasing skin. It is also used on hair to make them soft and shiny. In the same fashion, Ghassoul paste with honey is an instant solution to dry skin. The face mask made with Ghassoul clay and honey removes dryness from the skin and brings glow and shine to it.
Oriental Group is one of the largest and most renowned sellers of the product. The group specializes in Bulk order, wholesale as well as retail of the products. Besides selling the product to a whole variety of customers, the group also provides private labeling services to its industrial customers who wish to resell the products.
So, if you are a health and beauty enthusiast or you deal in the beauty business, join hands with the Oriental group to reap the benefits of the gift of Morocco.
Want to brighten Skin! Use the Moroccan Ghassoul Clay of Oriental Groups
Moroccan Ghassoul Clay is a natural beauty product. It has been using for centuries. It's used for the beautification of skin as well as hair. Moroccan clay is a mined ingredient found in the Atlas Mountains. This clay is reddish-brown in color. Moroccan Ghassoul is not a homemade process, its produce entirely by the process. It helps to remove dark spots on the skin and skin tone. Due to its unique characteristics, it has been using widespread.  Some people use it as natural shampoo and soap. According to the research Ghassoul Clay helps to enhance skins elasticity and brightening skin color as it contains higher silica and magnesium.
Uses of Ghassoul Clay:
Ghassoul Clay as a facial scrub: It can be used as a facial scrub. It can mix with other beauty ingredients to make a smooth and exfoliating scrub.
As a hair mask: Ghassoul Clay can be used also a natural hair treatment. It makes hair shiny and thick as well as lively. It helps to remove scums.
Uses as a body mask:  You can also use it as a full-body mask. It enhances the purity and elasticity of body skin due to its extractive capabilities.
The benefit of using Ghassoul Clay:
For sustainable glowing skin: As it contains a huge amount of minerals. It's full of silica and magnesium that helps to produce collagen and also the formulation of new skin. Magnesium is an essential mineral for the body which is easily absorbed by the skin. It also prevents skin from wrinkles and acne.
For smooth shiny and tightening skin: By removing dead skin it makes skin looks shiny and tightening. Regular use of it provides a consistently toned appearance.
Uses for natural shampoo: It can be also used as a fine natural shampoo due to its imaging outstanding characteristics of eliminating scalps. It is very popular in a spa for everyday beautification.
Fit for all ages of the user: As Ghassoul is a natural element it can be used by all ages of people on a regular basis.
In conclusion, we can say you can entirely rely on our 100% natural mineral product for your skin and hair treatment. Consistent use of this product not only makes your sink shiny but it also makes you feel young. The Oriental Group is one of the wholesalers of this product. We are sold both a bulk quantity and individual sales of these products. That's why we offer you a private labeling service for wishing to resell our products.
The ghassoul or also known for his other name Rhassoul is a natural mineral clay and the first people who got their hands on it were the people in Marocco. The ghassoul was used in ancient times as a beauty remedy by the women in Egypt, ancient Rome, and ancient Greece. The ghassoul/rascal consists of potassium, sodium, silica, iron, lithium, magnesium, calcium, and trace elements.
When we're talking about the ghassoul we're talking about high-quality clay that helps to nourish your skin. The ghassoul is mostly combined with water and this is the traditional way. In ancient times the ghassoul was mostly used on the whole body and many people still do it today. However, the ghassoul is mostly preferred as a skincare remedy.
As a result of the rich content of vitamins and minerals,
ghassoul is really effective skincare remedy and provides many benefits.
If you happen to face a problem with dead skin cells and you can't find the perfect remedy to help you overcome that problem ghassoul is the solution for it. First and foremost due to the mild abrasive textures which after scrubbing it off you're going to have soft and smooth skin.
You can find many products on the market that "help" with oily skin but none of those products can compare with the ghassoul clay. Ghassoul clay helps with oily skin like no other and at the same time it stops pimples and blackheads from coming.
You have many other benefits from ghassoul such as softening the skin, pores cleansing, pores tightening, fights dandruff. Another thing you can use the ghassoul for is hair care. Due to the versatility of the product, it can help you overcome hair problems.
In conclusion, ghassoul is extremely flexible and versatile skincare and hair care product and remedy. Many people have it in their daily care routine and rightfully so.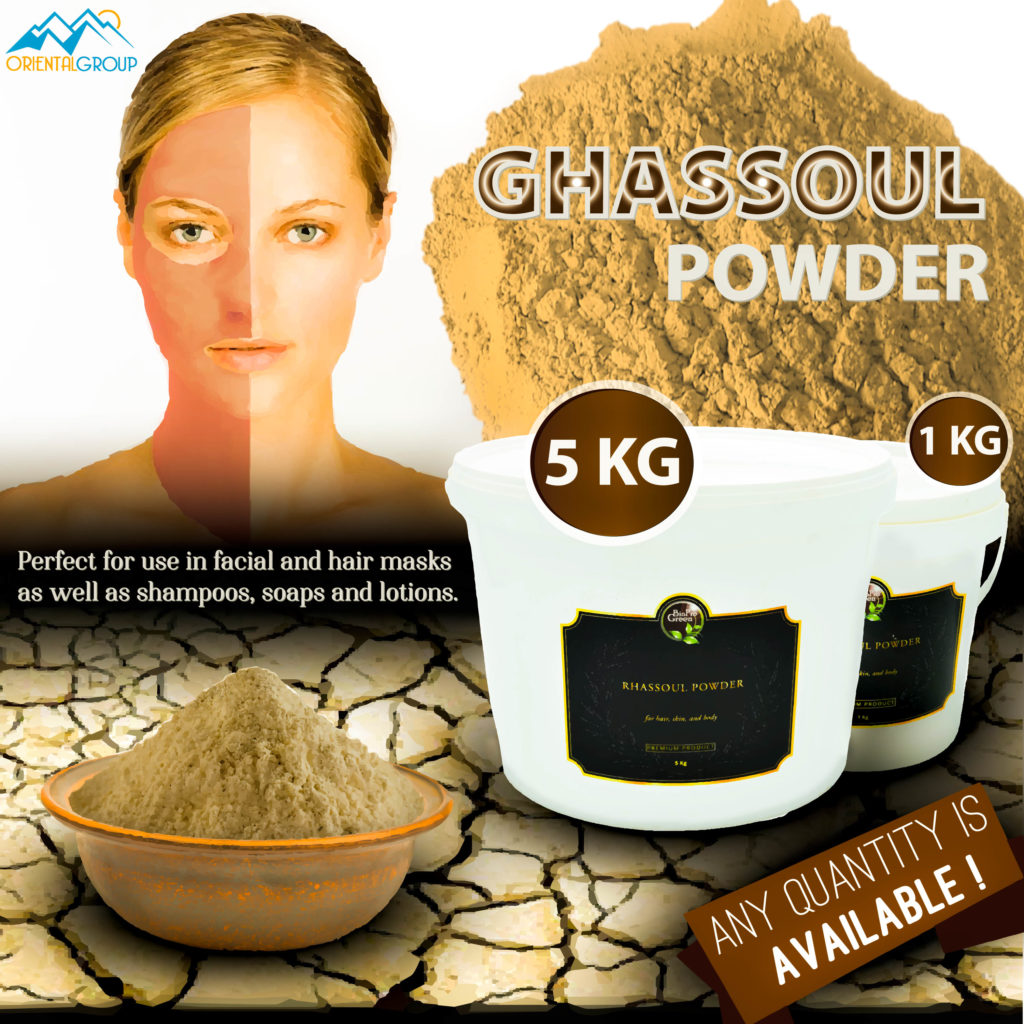 Rhassoul is natural clay used for centuries. It has a fuzzy appearance, rich in minerals, and is exceptional in skincare and hair ingredients. Rhassoul clay is reddish brown cosmetic natural clay from Morocco. It is also known as red clay, Red Morocco clay, clay, Ghassoul clay, and oxide clay. This clay is mined organically from deposits deep in the Atlas Mountains in Morocco. This is the result of a natural process of geothermal and volcanic activity.
This untreated dried clay has almost a silky feeling which can help reduce skin tone and reduce spots. It has the unique ability to nourish the skin and reduce epidemic; this has prompted many people to use it daily as a natural soap and shampoo. Research and clinical emphasis discovered that Rhassoul could probably increase skin elasticity, even skin color, reduce redness and blackheads and reduce drying or peeling of the skin. Rhassoul is relevant because it has a higher silica and magnesium content; this is especially good for the skin.
USES FOR RHASSOUL CLAY
Face Masks: This remains the simplest use of Ghassoul clay. It can be mixed maybe with water or rose water to form a silky dough. This paste can be brushed or gummed on the face and let it dry before washing.
Facial Scrub: Rhassoul can also be combined with other ingredients to form an exfoliating and smoothing scrub. This seems to provide the benefits of masking and exfoliation in one step.
Hair Mask: As a hair treatment, this cleanses the hair by removing impurities and leaves the hair thick and lively.
Full Body Mask: Rhassoul reduces dryness, improves skin purity and elasticity. It also has extractive abilities i.e. removing surface oil around blocked hair follicles, which confiscate impurities and unblock pores. Also, it removes persistent pimples caused by the general smoothing of the surface skin.
BENEFITS OF GHASSOUL
It Sustains the Skin
Rhassoul contains minerals that are useful for the skin, especially silica and magnesium. Silica is an important element for the production of collagen and is often used in the formulation of the skin. Magnesium, on the other hand, is also an important mineral needed by the body, which is easily absorbed into the skin. Magnesium guards against damage caused by free radicals that lead to wrinkles and guards against irritation caused by acne and allergies.
Smooth and Tightening ability
The clay particle exfoliates the skin gently by removing dead skin cells and also shrinking the pores. Consistent use of Rhassoul results in a *
smooth and uniformly toned complexion.
Appropriate for Delicate skin
There have been several trials on Rhassoul and it has been proven to tolerate all skin types. The minerals it encompasses help decrease inflammation or drying the skin.
Natural shampoo
Rhassoul is also conventionally used as shampoo because it has outstanding properties for eliminating impurities and fat, and gently cleanses the skin without irritation. It is a perfect solution and very popular amongst the natural hair community.
Ecologically Friendly Soap
Rhassoul is mined from deposits in the Atlas Mountains, and unlike various clays, has not been visible to surface impurities. It is an all-natural substitute to products that have palm oil, surfactants, plastic beads, para-bens and, it is harmless for discharge into our marine environs.
The truth is that looking good and taking care of your skin is the key to bringing your stress level as low as possible. Finding a minimal way to create beauty is peace of mind and freedom.
                 Ghassoul / Rassul
Ghassoul knew as Rassul is a reddish-brown clay that is rich in natural minerals uses for both skin and hair protection. It originates from the Atlas Mountains in Morocco. However, due to its organic mineral properties, it is perfect to use for cleansing both skin and hair. It is an oxidant clay and is best to hydrate your skin. Moroccans have been using this rich mineral clay for many years. Moreover, this supplies in shales and in pieces called plaquettes that dissolve in water.
As it is rich in mineral components, it easily attracts dirt, pollution, impurities and simply arisen away with Luke warm water. Certainly turn your face and hair feeling awesome, by removing impurities, give an amazing look!
Buy Ghassoul clay at Oriental Group and get 100% pure product that has been used by Moroccan people for hundreds of years.
However, lets your face and hair be thankful to you, directly from its source!
Moreover, Ghassoul oil is a very gentle, sun-dried, and organic product. As there are many benefits of using this clay, some of them are as follows: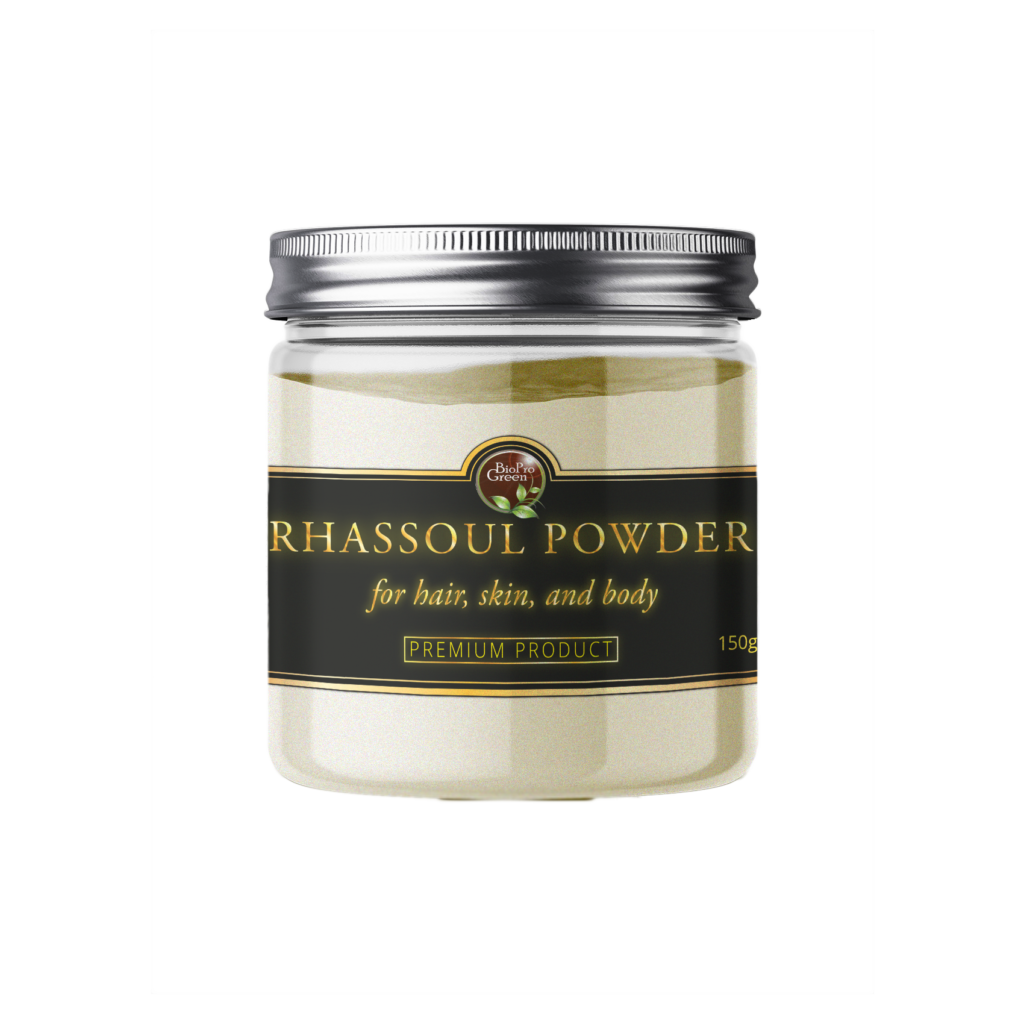 Using this clay for your sensitive skin is the best treatment
First of all, this clay is best for deep cleansing of the skin
It repairs your hairs and gives them a silky look
Ghassoul clay detoxifies your skin properly
Furthermore, conditioning your damage, rough hairs
It protects your skin and hair and nourishes them
Rassul clarifies and increases the elasticity of hairs and skin
Another benefit is it treats eczema, psoriasis, and acne gently
We offer you 100% pure and original Ghassoul clay at the best price. We don't mix anything in it and provide you with the organic product directly from its origin.
Furthermore, this amazing clay is daily use by customers to protect their skin. It's not only useful for damaged skin but also repairs rough, dry, crack skin easily.
Above all are the highlighted benefits of using Ghassoul clay. It protects skin and hair from damages. Similarly, there are also many other benefits of using this clay. Some of them are as follows:
The Moroccan Rassul clay uses as a daily cleanser instead of using artificial soaps.
It can also use as a face scrub when mixing with other ingredients like almonds, oats, etc.
This clay is used as a natural home spa for softens your skin. It helps in overcoming dead skin cells.
For centuries, the mixture of Ghassoul clay uses as hair shampoo gives a light and smooth texture to your hair. Furthermore, it eliminates dandruff easily.
Moreover, it reduces joint inflammation, redness and increases the movement of the knees.
Uses of Ghassoul Clay
Face Masks: Ghassoul clay uses as face masks in many different ways. However, it can mix with rose water or even more with plain water to make silk dough. You can apply this paste to your face for getting the glow.
Facial Scrub: Don't worry if you are tired of using artificial facial scrubs, Ghassoul clay scrub works as exfoliation as well as a face mask for brightening your skin.
Hair Mask: Furthermore, it also uses as a hair mask. It removes impurities from hairs and makes them thick and long.
Full Body Mask: Ghassoul clay reduces skin tanned and increases elasticity. It also works as an extraction agent for removing unblock hair follicles and also remove pimples from the surface.

Company Information
Oriental Group
N°200 Lot Elmassar,Sidi Ghanem Industrial Estate
Route de Safi,
40 000 Marrakech,
MOROCCO
Mobile / Whatsapp / Viber: +212 600 604 387
Service clients : +212 651 925 398 / +212 614 925 123
Skype: group.oriental
Wechat ID : Orientalgroupmorocco

Website : https://group-oriental.com/fr/
Facebook : https://fr-fr.facebook.com/grouporiental/
Twitter : https://twitter.com/grouporiental?lang=fr
Pinterest :https://www.pinterest.com/OrientalGroup/_saved/
Instagram :https://www.instagram.com/group_oriental/?hl=fr