Deodorize Argan Oil: Best Organic Body Care Product of Argan oil Morocco
Hello! Are you looking for a skin that would make someone jealous? We are here to fulfill your desire. Try our best natural deodorized Argan oil to moisturize your skin. We can assure you after using our natural oil your dry skin will turn into a smooth and soften one.  Due to enrich with high vitamin E and fatty acid,deodorized Argan oil would be an everyday booster for your daily life.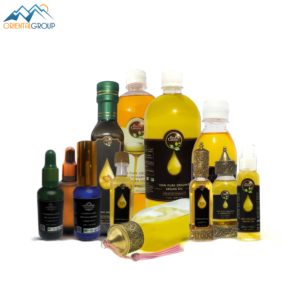 Have the following details for your convenience:
•    For moistening your skin: Argan oil could be a strong element for renovating your skin and hair. Its vitamin E and Omega 6 prevents hair fall dramatically. It is naturally antifungal and uncontaminated so effective for excellent moisture.
•    For attractive silky and shiny hair:Argan oilcan easily repair damaged, frizzy and dead hair.
It helps to grow hair faster and also prevent hair loss. It helps to heal dry scalps. Therefore, you can have one for a glossy and celebrity look.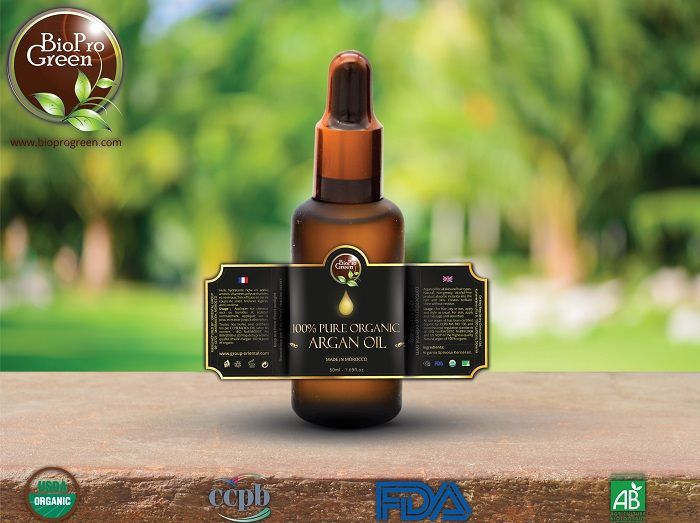 Treat as one of your beauty product: Beauty can inspire our soul and hence encourage performing unstoppable. Argan oil can be used as much other beauty products and feel the difference.  It's the moment one's feel different, feel alive. So don't hesitate to have oneArgan oil in your hand.
•    Multiple Purposes: Argan oil can be used for the various purpose such as moistening the skin, also reducing acne, scars, eczema, wrinkles, and marks.
•    Money back guarantees so risk-free: Buy our product and try if you are not satisfied informed us and have your money back. 
•    Safe for all users: Argan oil morocco can be used for different purpose. It applies to manufacture soap, shampoos as well as cream. It also can be used as aftershave lotion for men.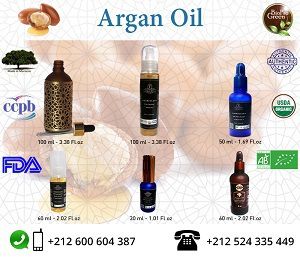 Therefore, would you like to try our best natural moisture Argan oil for skin, hair as well as for your loved face? contact us for more information : 
Min.Order Quantity of argan oil:         5 Liter
Supply Ability of argan oil:     20000 Liter/Liters of argan oil per Week
Port:     FOB Casablanca /Tanger MED / Agadir
Payment Terms:           L/C,T/T, ,Western Union,MoneyGram/Paypal
Certfication:           MSDS ,CCPB /NOP USDA PROGRAM

| | | | |
| --- | --- | --- | --- |
| Component Entity | CAS Number | EINECS Number | Proportions [%w/w] |
| | | | 100 |
Technical Condition of       :EEACE /COFRAC NFEN ISO660, NF EN ISO 3656, COI/T.20/Doc.n°19, NF EN ISO 662, NF EN ISO 12966-2, NF EN ISO 5508             
| | | |
| --- | --- | --- |
| | AND (analytical and normative documentation) Standard requirements | |
| % expressed in Oleic acid | | |
| | | |
| Water content and volatile matter | | |
| | Very light yellow, clear oily liquid | |
| | | |
| | Liquid at room temperature | |
| | | |
| | | |
| | | |
| | | |
| | | |
| | | |
| | | |
| | | |
| | | |
| | | |
| | | |
| | | |
| | | |
| | | |
Nutritional information :
Lipids content : 99,9 % min

Energy value : 9000kcal /kg
Sécurité sanitaire / Health safety :
– Ionization : This product did not undergo any ionizing treatment and does not contain any ingredient

or additive that was treated by ionization.

– GMO position : In accordance with regulations 1829/2003 EC & 1830/2003 EC.

– Pesticides : contents in conformity with regulation 396/2005 EC and its last amendments.

– PCB type dioxine : contents in conformity with regulation 1259/2011EC.

– Heavy metals : contents in conformity with regulation 1881/2006 EC.

– Polycyclic aromatic hydrocarbons : contents in conformity with regulation 835/2011 EC

– Aflatoxins : contents in conformity with regulation 165/2010 EC.

– A monitoring plan of the contaminants has been set up to ensure the observance of the EC regulations in

force.
Storage and packing :
The oil is stored in closed tanks at room temperature, and/or packed in metal or plastic drums, plastic kegs

or plastic containers (food contact material).

Vegetable oil which cristallizes at a temperature below 10°C.

Packing is protected and identified with the following mentions: denomination of the product, batch number,

gross weight, net weight, date of manufacture, best before date.
Conditions of conservation :
The conditions of conservation are optimal when the oil is preserved in a full and closed packing away from

light at a temperature below 18°C.

Best before date: 24 months as from the date of manufacture, in the original closed packing and in the

recommended conditions.

At the best before date, the oil preserves all its nutritional and functional characteristics and is still

safe for use.

Its manufacturing process, its conditioning, as well as the applied storage are studied to allow, if

necessary, a possible extent of its validity by reanalyzing some of its characteristics.




Nomenclature :



INCI Name : Argania spinosa kernel oil

Decision 2006/257 EC INCI name : Argania spinosa oil

NCI Cosing Name : Argania spinosa kernel oil

N° CAS : 223747-87-3 / 299184-75-1

Customs code : 33 04 99 00 10
Download the Material Safety datasheet for more information :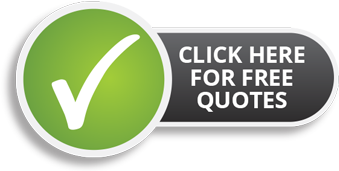 N°200 Lot Elmassar,Sidi Ghanem Industrial Estate
Website : 

www.argan-oil.ma